What is the Sunshine Society?
When you subscribe to The Sunshine Society, you will receive a great mixed Sunshine Box with treasures from our travels.  
Remember, whether you physically live on an island, or just do in your soul – paradise is a mindset.  Keep sharing the sunshine with others and take the time to walk barefoot in the sand and gaze across the sea.  
We are The Sunshine Society.  We can't wait to share the sunshine with you!  

Meet the owner of The Sunshine Society!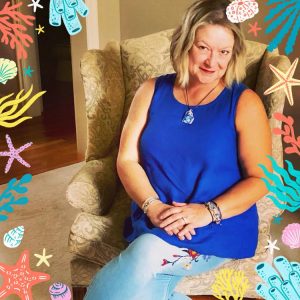 Lori Hirons is the owner of Island Contessa™, a lifestyle brand that is style made for paradise.  You can follow her on Twitter (Island Contessa), Facebook (The Island Contessa), Instagram (Island Contessa) and Pinterest (Island Contessa).  Founded in 2014 by Lori Hirons, the chic resort wear, available here and at fine boutiques, is meant to reflect the Island way of living that Lori has come to embrace on her home island of St. Croix.  When Lori started Island Contessa, she wanted to create a business that makes women feel good AND look good at the same time.  To that end, she contributes a portion of her profits to domestic violence shelters.  (Read more about this on the Giving Back page.)  Island Contessa offers sophisticated pieces with a casual twist, all constructed with natural fibers.  And all made in the USA. in 2016, Lori expanded the brand to include custom home goods that include her take on Turkish poufs, luxurious pillows and table linens.   You can follow Lori's blogs on travel, home interiors and her writing! (Yes, she's a writer!)  You can find her books on Amazon and in select bookstores.  Island Contessa is a rich, multi-faceted experience and Lori wants you to come along for the ride.